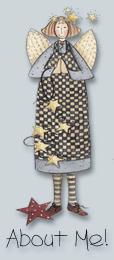 Just a short little poem to tell about me,
The things that I like and my family.
I'm a mama & a grama and that's so cool!
I'm also very busy with the kids at school.
Angels make me happy, even when I'm down,
And I'm still a-livin' in my own hometown.
Antique collectin' and country crafts,
Hangin' with my family for a few good laughs.
I often go camping and ride my bike,
Reading books to my kids is what I like.
I'm awfully glad you stopped & took the time
To browse my web page and read my rhyme!